Welcome to Benningtons. If you're looking for beautiful, delicious handmade treats, you're certainly in the right place.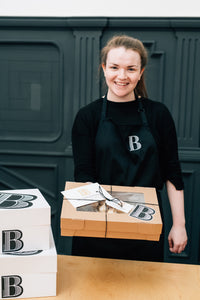 About Benningtons
Every delicious order from Benningtons is a handmade experience brought to you by Karen Bennington.
Karen is a passionate baker with years of experience making delicious cakes and treats. She trained at the world renowned Ballymaloe Cookery School under the watchful eye of Darina and Rachel Allen, and cake goddess Pamela Black. Her expertise, delicate touch and attention to detail is clear in every bite.
Karen is an active part of the community and has a passion for spreading joy. A delightful shared moment with food, family and friends is an irreplaceable memory that she is thrilled to be a part of.
Some Comments
Karen's cakes are delicious and perfect for any occasion. Beautifully decorated and so light you just want another slice! She is so helpful and very efficient. You definitely won't be disappointed!
Sharon Cox, via Google Reviews
---
Exceptional service and a beautiful, delicious cake. Will use again!
Chris Bell, via Google Reviews
---
Karen made us the most incredible vegan chocolate oreo cake for my partner's birthday. Honestly the best cake we have ever had, vegan or not (and we've had a lot of cake). Gave some to family and friends and they're now wanting to order cakes for upcoming birthdays. Will be trying the other flavours at some point. Thanks Karen!
Zaya Davison, via Facebook Reviews
---
Where to Find Benningtons
30 Lady Wallace Lane, Wallace Village, Lisburn, BT28 3WT